Be Expected The Unexpected
Prologue
What a ride since 2019 Chattajack! Things has been totally different since COVID started in 2020. The one thing hasn't changed is our Paddle Monster training load throughout 2020 and up till Chattajack.
For one my body has been hurting with SI Joint since 2019 September but worsen in January 2020. 2020 was difficult year to manage my pain looking for the solutions. PT and stretches from end of 2020 till now has been miracle. Miracle to get my body ready for very few races I planed in 2021.
Let's straight dive in to this years Chattajack Journey.
This year we landed on Wednesday staying AirBnB 16min walk from the Ross Landing. It was perfect location we had great stay. Logistic is one of the important part of coming to Chattanooga.
Weather was much warmer during the day and forecast for the rain was only for the Thursday. Most veteran knows we wait till Friday to determine our outfit on race day.
What makes Chattajack so special is the Ohana we get to hang out with. John Beausang from Paddle Monster quotes "Your Stoke Is Infectious". It only took 94 selfies for that quote!
This is the one race you want to register and get your experience in beautiful Tennessee River for 32miles.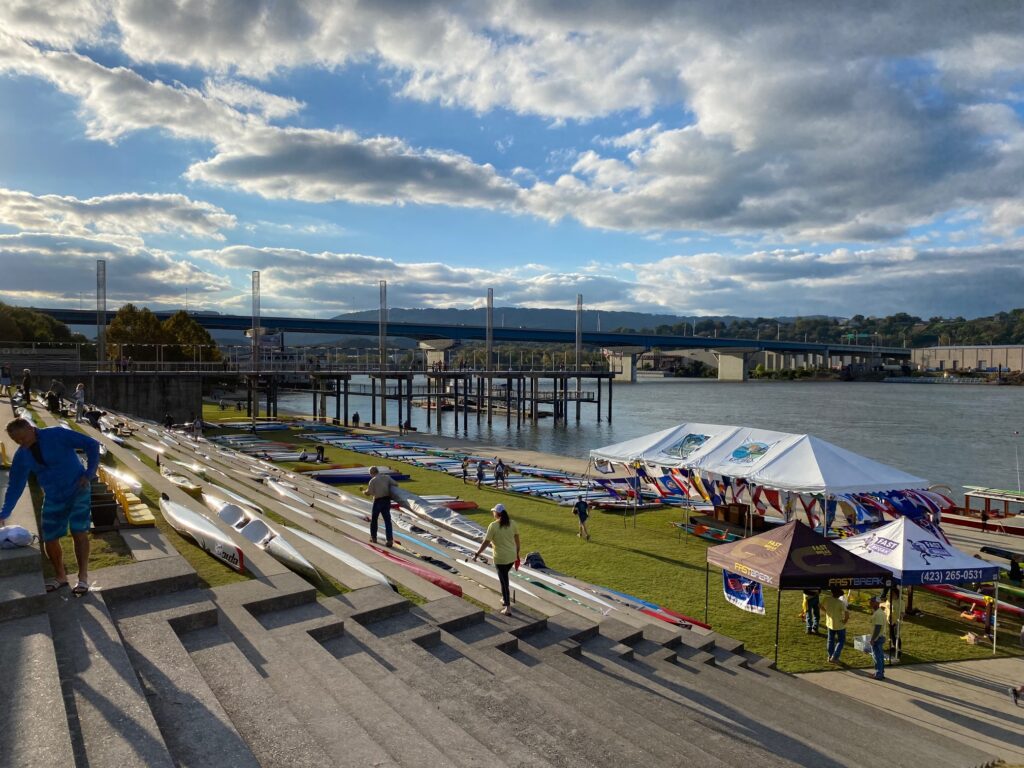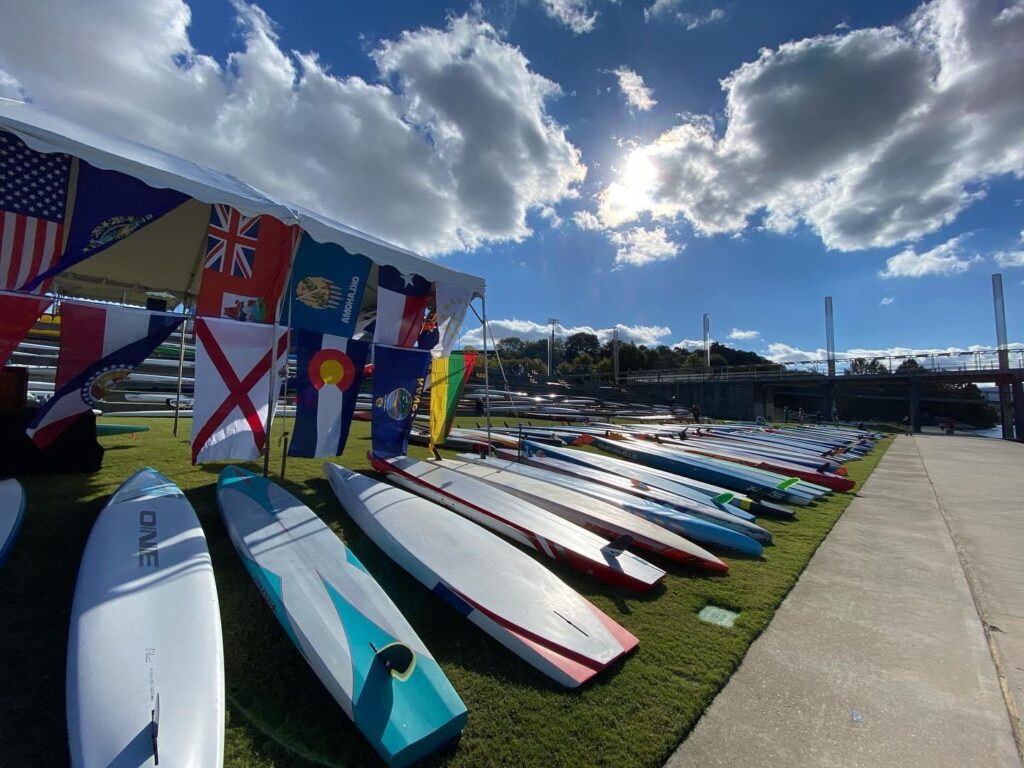 Race Recap
During Thursday quick paddle, Paddle Monster Family Brad Fothergill from Canada has taught me to push my limits. He have seen my training all year and mentor me to push this years race.
Night before the race laying all the hydration and get ready for the 8:30am start.
6:15am Alarm clock and first business is #2. Then carb pre-load around 200gram breakfast. Every Chattajack I have speacial meggings (leggings for men) from Virus which high compression and need to be on the floor to slide.
7:15am Ready to make 16min brisk walk for racers meeting at Ross Landing. This year weather was mild 47F/73F so I opted go with not tops just like picture.
7:50am ~8:30am Time to paddle to the starting line. 50k flow made interesting way to warm up and stay revere to keep your sport for awhile.
8:30am Magic time as we make ourselves to the line for start. Most important part of race. I was lucky enough to be line up with boat for good start. Every year getting little smarter to find the right spot and the line to start.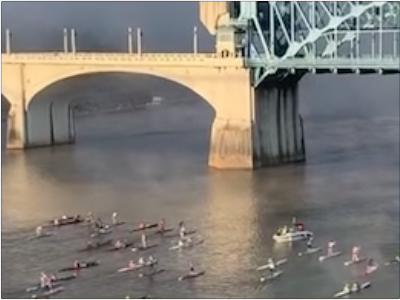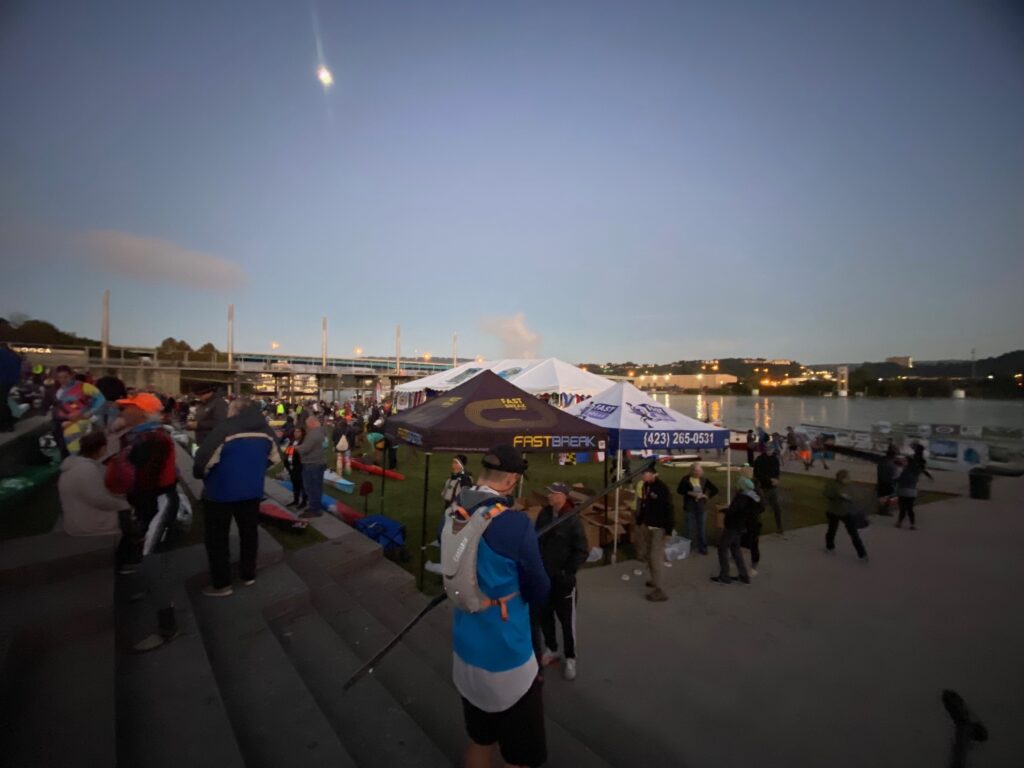 I was not able find the clean shot of my start but I am right to the surfski on the left of the boat side. I started exactly where I wanted and when through two bridges in the middle of the Tennessee river.
This is the upfront start I have ever been in Chattajack and it pays to be in that position to keep your spot.
It was so foggy where I can see paddler front of me and all the sudden they disappear in the fog.
My featured picture is taken at @3miles at moccasin bend clocking 25min/7.2mph. It was hard to see my right shore where I need to make apex corner for smooth turn and staying in center of the river .
Performance Recap
50K flow put most of us in 7-8mph ridiculous fast for Chattajack. First 20-22miles was strong and I was ahead of everyone.
When I say ahead of everyone I'm people used to be front of me earlier in race was behind me. Reason I know that is when I start to have cramp as you might seen dips in pace at 3:24 area. My 20miles came in around 3hrs and change. This year the line you take on river is much different than past. Wasn't difficult but without live feedback from speed coach it would been hard to see that. I have seen few went too close the shore and wasn't moving.
So after 22miles or so that cramp from different muscle group attach my body. SI joint/ Hip was getting little tighter as well as my body compensating for the tightness. I don't remember exact mileage when I had to get on my knees but I see 4 stops on my knees.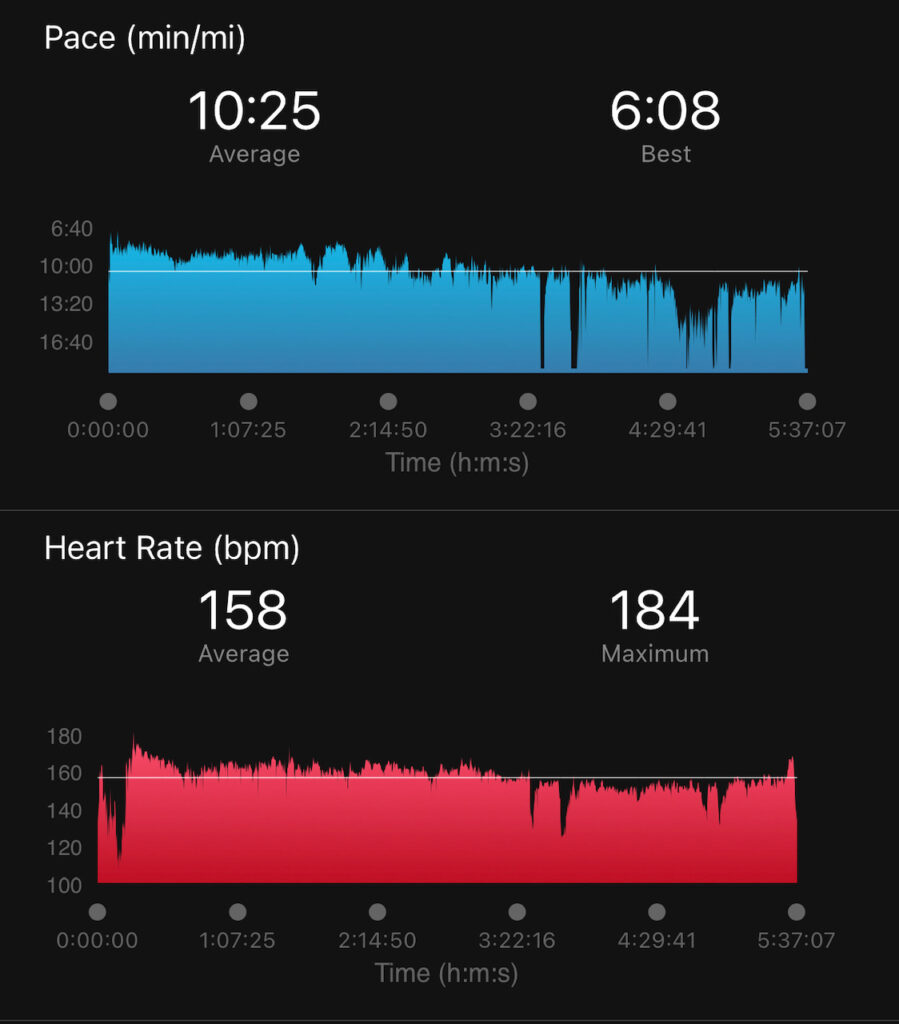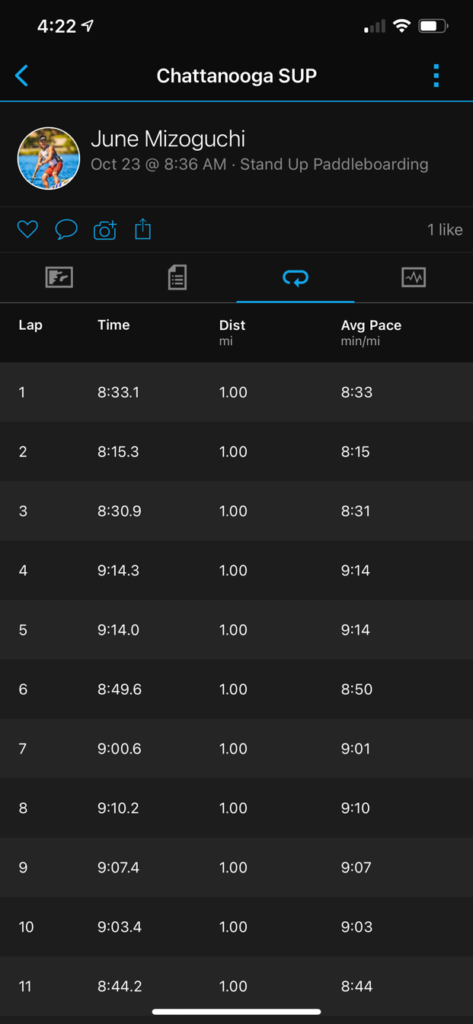 Patrick Brommel from Nantucket, MA (Banh Pho/Hobo Squad) on his OC-1 pass by seeing me hurting and share his spare Skratch Lab salt mix hydration packet. Mentally I was in position to ditch because I was not far from Miles 23 and able to safely stop the race. Luckily I take the packet 3 pieces to dissolve in my mouth wait for body to kick in continue to paddle . I can't thank enough for his support so that I can finish the race. You are my hero my friend!!,
Most important part of the race is not stop paddling. Whatever the pain you are dealing with you need keep to be keep paddling. Last 7-8miles was definitely challenges but I keep looking at my Garmin watch and said to myself 1mile at a time. Once you got pass it's almost impossible to get back so I kept in my perspective at all times and keep the pace up. Few of my friends such as Chris Iron, Shane Skeul , Juerg Geser , Adle Umannova and Zac Rounsaville gave me some shout out when I was hurting!
Mile 27 Cindy Massa / Theo Burn catch up with me on their OC-2 and gave me the shout. And also told me take that thing out of my mouth and paddle. My last shout to the Hales Bar. So much paddle Ohana look out for me and Thank you for that.
Last stretch to Hales Bar I was simply ready to get off but let's finish it and get the medal so I can get the buckle in 2022. Right before the last bend to the Hales Bar I recruited another rider behind me so that I have some safety just in case I go south badly. I look back said…. 'You hurting?", He yell back… "No bad". I said lets get it together and draft back. I knew he was slow so I brought my stroke rate down to match him. We were still moving pretty good so wasn't really an issues when I was already home. Reality of I just lost my best run to hit 5:15 expected time.
As we gotten close to the Hales bar I was don't pacing and we paddle side by side. Found out he was 58y/o, buckle year from PA. I said maybe I was here to bring you back safe too…
Megaphone
By now most of us know who Melia Jacobs is. No only she does the times for other events, she is a famous Megaphone Melia at Hales Bar. I'm 4 consecutive finisher here at Chattajack and the voice I hear as soon I turn the Hales Bar to the dock is a special one.
This year we didn't had sprint finish plus the finish line was shorter. With that said as I paddle the last section to finish it my had locked up and had to paddle on once side.
I knew when I get on my knee I'm going to have an issues. Behold as I pass the finish line and full body cramp hit.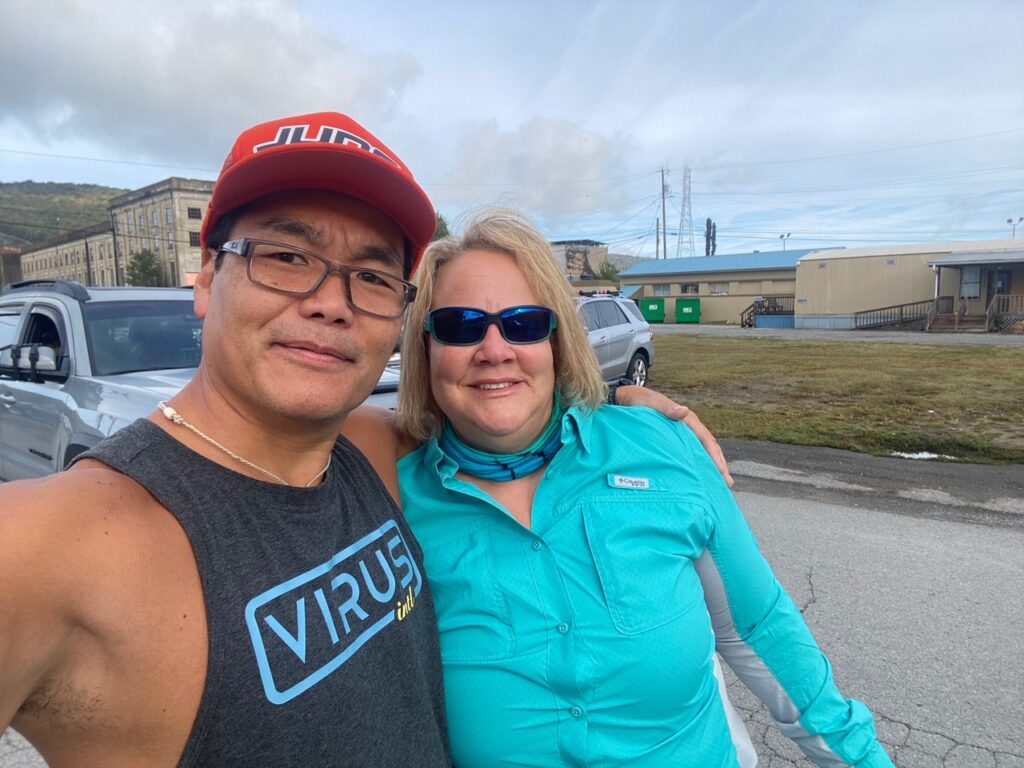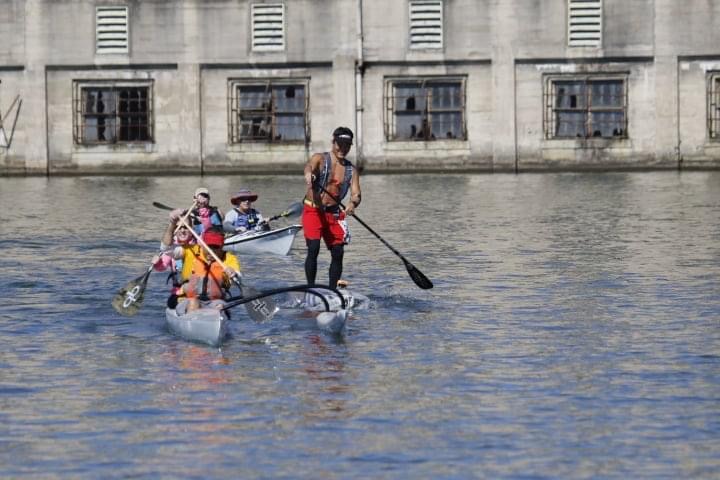 I hear loud and clear "MACHINE BROKE". I was on my knee trying to figure it out how unlock it. Double chest cramp, lats cramp, tricep cramp, hand cramp and right fee cramp. I try to recruit friend next to it to undo the cramp. It was crazy finishing moment so far.
I stayed on the board for 15-20min to cool down while watch few of my friends to come in and give some shout out.
Cowbell is ringing and People on the dock is yelling to cheer you up is amazing .
Once you go around the dock all the paddlers are ready to get off and sit around for their turns.
We had few friends around me to chat while get our turns. We are tired but always smile at the end.
Despite all the failure for the last 2hrs, I finish at 5:34:46.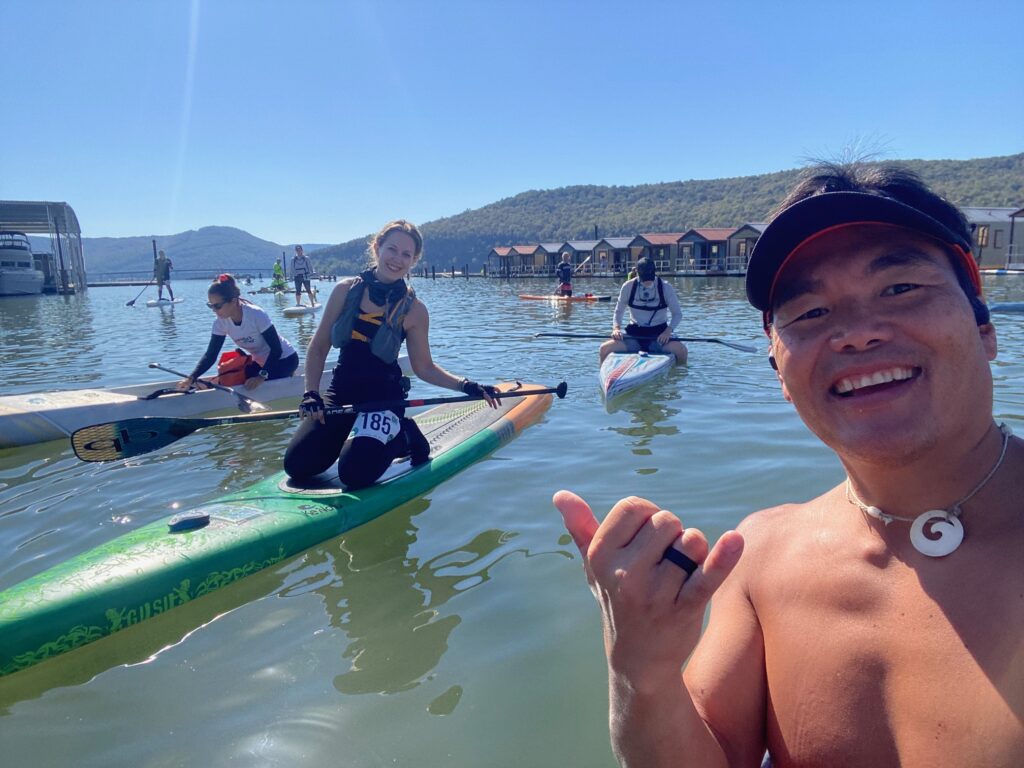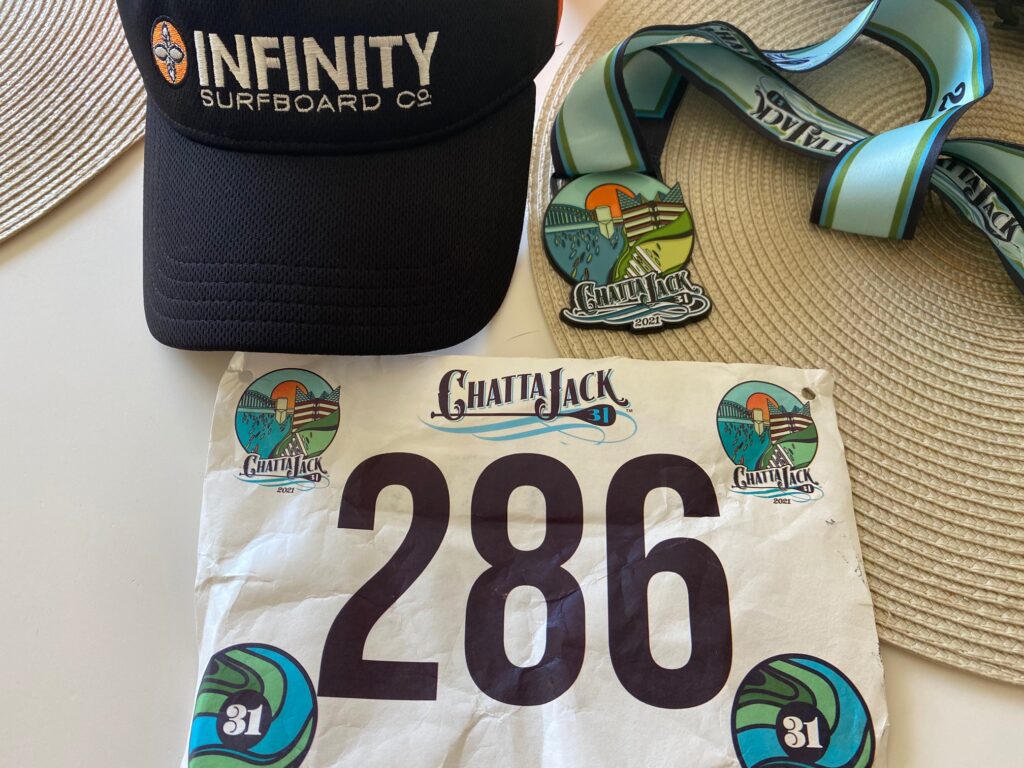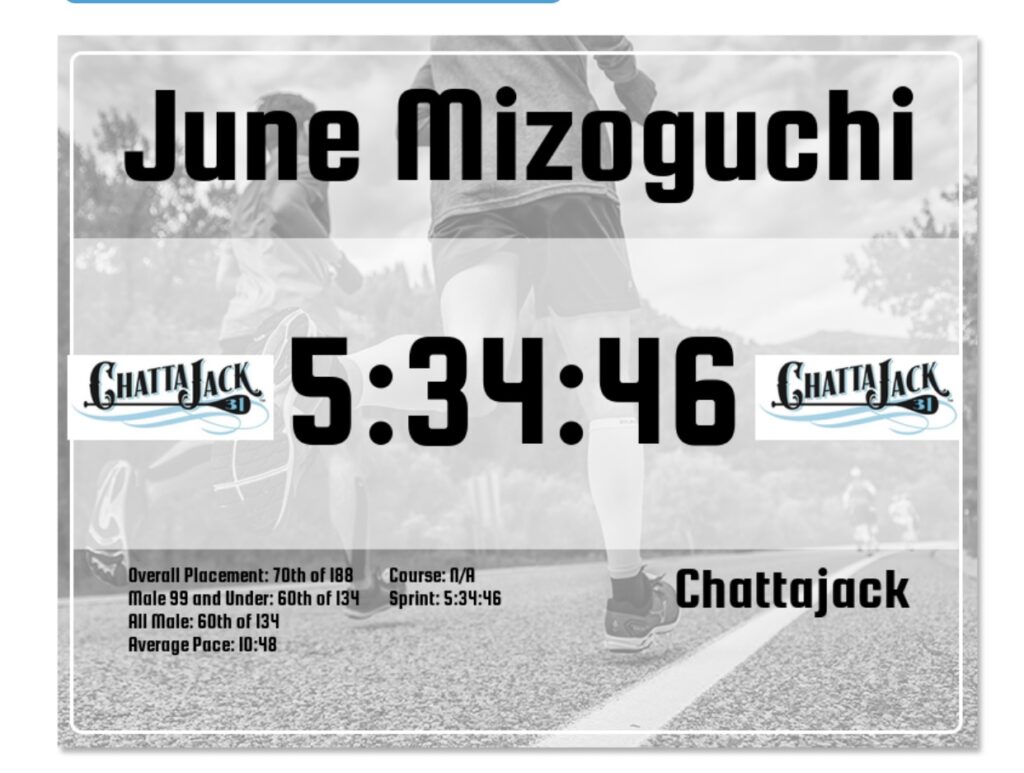 It's wrap for this year is Chattajack but keep reading because I have post Chattajack homework for 2022.
I was happy with my performance but I could not get off my mind what has went wrong so I been busy figuring that out .
For a little while it's becoming hard to get buckle with delay but my internal flame is little bigger now.
Let's hope 2022 will be good condition as this year and we training hard to attack anything that Tennessee river will throw us on that day.
You break it , You fix it
Post Chattajack my body was tired and hungry. I was able to walk and do other thing but definitely need it some break. I took out my Hyperice and massage my body and SI Joint as well. Soar muscle are something I'm used to it but cramp this year was way more than I gambled.
I did found new massage therapist with orthopedic massage background and she has don't number of thing to my body from SI joint, Hip, Shoulders and all. I keep telling this is cramping or have this problem. It was magic happening before my eye she has adjust body better than ever. Day after I still feel slightly soar in few spot but I feel different in good way.
One thing I had figure out cramp. Talking massage therapist she taught few thing from stretches to other thing to look for. Something it changes through out the year is now I'm taking thyroids medication for hypothyroidism. We thought the issues with cramping coming from low electrolytes result of thyroids.
I reached out to Victoria Burgess to see what I was doing wrong and had few conversation about it. While all this is happening I had to go over my nutrition I used in race. Setup is same as 2019 and thinking what is different with hydration powder. I discovered older version of power I used until September had electrolytes included with 3x the carbohydrate. New powder comes in different design now did NOT had electrolytes and just 3x carbohydrate (80g).
It was quite obvious that I made honest mistake but also very crucial mistake of thinking same components in the powder. Taste exactly the same so If I didn't look in depth I wouldn't know the differences.
In a nutshell I had perfect nutrition based on my Chattajack Playcard but I was only feeding massing amount of carbohydrate with nothing to replace my electrolytes. I pre-load 30min before which was two packet of gel inlaces electrolytes. That's not enough but sure last me for 20-22miles.
You can call me you are "MACHINE" or just failed
One thing I did that was most helpful was pre-loading nitrate for 2 days. It's amazing and my HR was running so good.
All in all I made it and live to tell.