Welcome to the series #3 of Fin test
In this series you will find 3 fins back to back test. Criteria of the test procedure is following.
Initial board side to side effect
1min/1min rest both direction
Keeping stroke rate at 51-53SPM average
Level 3 HR zone.
3-4min rest and changing the fin and quick logging the memo
Two fin box location for in-depth testing. All fin test will be place in the middle of the fin boxes.
Condition for base line is to be medium bump with some wind
Board: 2020 Infinity Blackfish Dugout 14×24 (297L) -Custom shape board
Paddle: Quick Blade T2 86 (71.5″ length) * (Last test I used my new blade)
Rider: 175lbs, 5′-7″
I will try to make simple as possible but also enough data for those may want to understand in depth.
Fin selection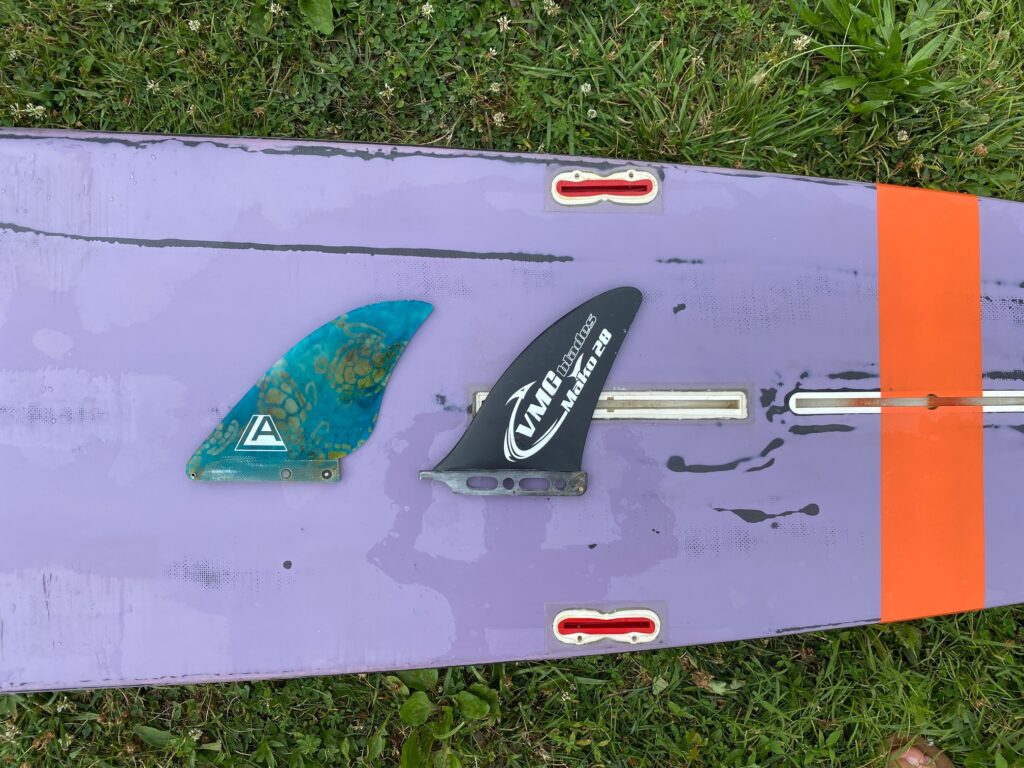 For the test fin we are using following:
In order to facilitate this test as close as we can I chosen a similar surface area fin. This was to minimize the deviation and fairness of the test.
| | | |
| --- | --- | --- |
| | VMG Mako | Dolph Mini |
| Depth (cm/in) | 18.41 / 7.25 | 15.9 / 6.25 |
| Area (cm3 / in²) | 180 / 28 | 187 / 29 |
| Cord (cm / in) | 15 / 5.9 | 17.8 / 7 |
| Fin Base (cm / in) | 14.6 / 5.75 | 14.6 / 5.75 |
| Leading Curve | 5.7/ 2.25 | 9.5 / 3.75 |
| Leading Edge (degrees) | 60° | 40° |
Fin is more complicated than you think if you spend time and understand how fin works. Fin can actually works on your favor or against your favor in many ways. Visual appetite can be deceiving and you will be surprise how it performance differently.
Fin test results
In this blog we are not going to discuss about how fin are designed and foiled. We cover that in later in this series.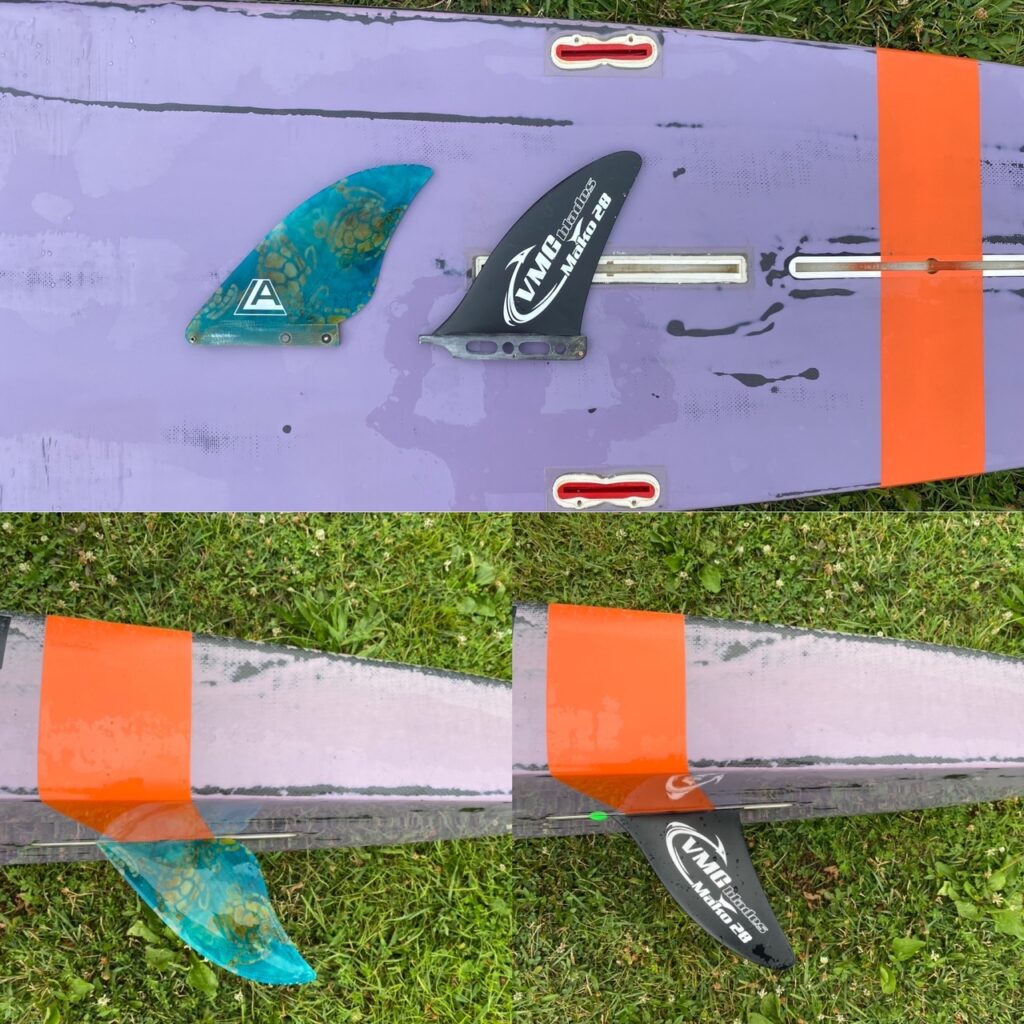 Fin position of each Front and rear fin box. Dead center position for proper testing
With no further due here is a Speedcoach results of each Fin follow by this order.
VMG Mako -Front fin box and Rear fin box
Dolphin Mini -Front fin box and Rear fin box

This time around I didn't separate the speed coach data but more interesting to see the results in one chart.
Let me give you how to read the chart and what order it was tested.
VMG Mako

Front Fin Box #1,2
Rear Fin Box #3,4

Dolphin Mini

Front Fin Box #5,6
Rear Fin Box #7,8

This is a great example of most closest fins to compare and results is quite remarkable.
Conclusion
This test was requested by paddle friend Steve Arkell back in 2020. I had found friend from California had VMG Maliko allow me to use and test was delayed till August 2021. I realized 2002 and massively delayed the blog post.
These two find with 99% same surface area made this test to be more interesting and accuracy to the point.
| | | |
| --- | --- | --- |
| | VMG Maliko | Dolphin Mini |
| Front Fin Box (U) | 0.092m/5.503mph | 0.102m/6.129mph |
| Front Fin Box (D) | 0.092m/5.503mph | 0.101m/6.017mph |
| Rear Fin Box (U) | 0.100m/5.973mph | 0.105m/6.286mph |
| Rear Fin Box (D) | 0.095m/5.659mph | 0.98m/5.861mph |
Here is a chart result of my personal feel of the fin from one to others
| | | |
| --- | --- | --- |
| | VMG Maliko | Dolphin Mini |
| Stability Test (F) | Better | Better |
| Stability Test (R) | Worse | Worse |
| Upwind (F) | Requires higher stroke to keep the board planning. | Better power hold and glide |
| Downwind (F) | Better with the current | Better responsive feel |
| Upwind (R) | Felt much better feel | Top speed was faster |
| Downwind (R) | Wasn't smooth and has more loose feel | Wasn't smooth and has more loose feel |
Overall from the start I kinda new these fin will be tippy to go with. Mind that I test under relatively quite lake with no boat wake. As soon as I stand on my board I can feel the board has a quite a side to side motion but you would expect that from the fin size. It was really hard make technical comparison been both are so close yet number does shows the results.
Probably most noticeable difference is glide of the fin. You are able to paddle different fin you can really tell the difference how it feels under your board.
So what's next?
It's been a long process to collect data but I will publish the overall experience of test.
If this series interests you please follow here or follow me at my facebook JuneTheMachine