Back to Wrightsville Beach again
Just 6 month ago we were here during the "King Tied" with excessive gust wind in mid 30MPH that got stronger by the minutes. Now that was one experiences in a book for those start the race. Shortly after left the Wrightsville Beach all of our Infinity Crew had to secure the "Infinity House" once again for the April 2022.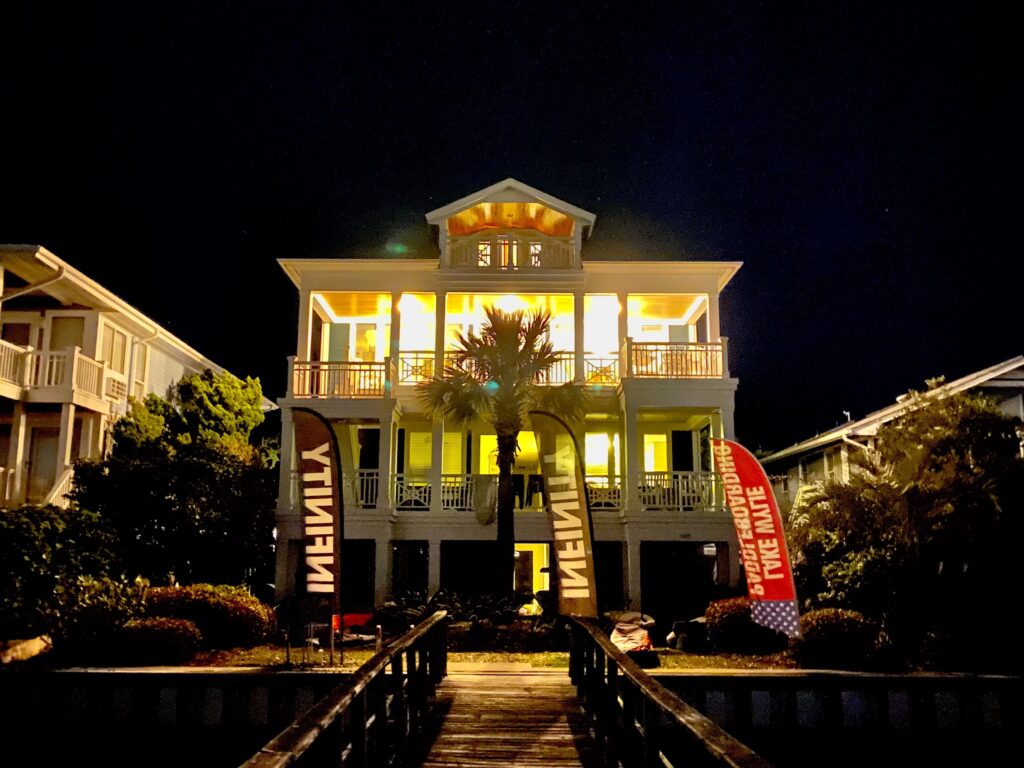 If NASA could peak through their satellite our Infinity House was lid up all week at Wrightsville Beach. This year we had many crew as November including massing board placed on our yard. It's obvious that we love the water and we know how to bring the party in.
This year Carolina Pro-AM happened prior to Carolina Cup week so some of SUP Surf riders and others has arrived few days prior. For the most part we are the first one to move in and last one to leave the Wrightsville Beach.
It's a mini vacation in April with all the crew to enjoy the week and sweat a little on Saturday. Most of us wake up 7am and hit the water on 8am for easy 5km paddle and sometime twice a day. Most of us just enjoy the water and have a good time.
2nd floor is our Pro rider crib which I'm staying during the week but they little picky on their individual training program day by day. One of the activity I started with them was Cryo Therapy. I wanted to try it for long time but finally tried. Just 10min drive Cryo Cove off the bridge and -159F for 3min was something else. I like it so much once I return to Kentucky I find close to my girlfriends house where I spend on weekends quite often. I found that price range is definitely not the same depending on the market you live in.
Compare to 6month ago we had tons of board came this year. I couldn't be mistaken but we has almost 16-18 boards laying on the yard , rack or hallway. It was full house of boards
One sits on bottom is the my newest 2020 Whiplash 14×19.75/288L board. I actually did not paddle this board while in Wrightsville Beach. My go to board is actually leaning against the wall,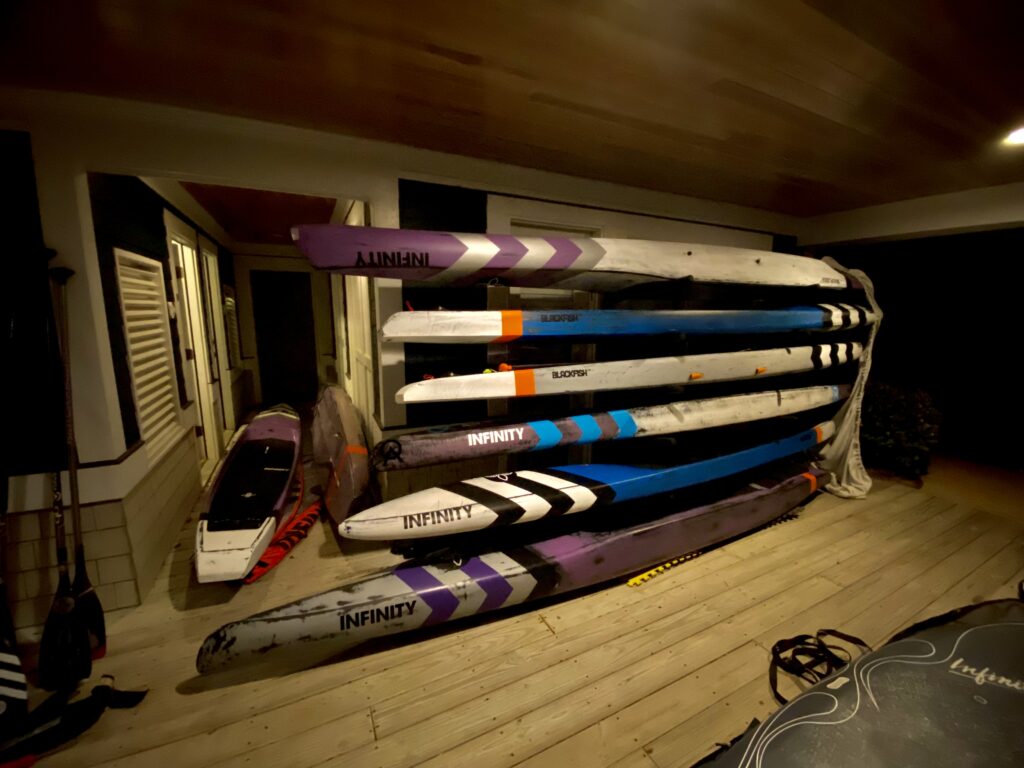 Race recap
Typical race prep has been the same and Carolina Cup not different with pre loading nutrition. I have my little secret to keep this old age body ready for the race day. I like to keep my race morning simple and keep my stomach happy starting with a 2 loads of oatmeals about 90min before the race starts. I'm heavy dark coffee drinker but on a race day I don't take any coffee other than orange juice. Simple as no bathroom run !
30min prior to the race start I carbo load the gel. This is usually plenty for Money Island to fuel me but I will pack 2 gel with me just in case. I like to keep my hydration setup simple and flask has been a best way to carry my electrolyte with my Nathan's vest. Strange enough most of the training up to 2hrs I don't take any hydration but on race day all about "Just incase" plus you will be working hard on your cardio and the muscles.
One tips I can share with you is not to change your nutrition on race week. You definitely need your body to adapt for awhile before you try something new.
I think this years condition was far better than November and was such a beautiful calm conditions. For April season Wrightsville Beach not the same what we know from the past. For Money Island, race itself was longer than previous but we also had to deal with tides. Tides is what makes Wrightsville Beach fun and different.
While peaking through my speed coach I saw the speed jumps from 4.x MPH to 6.5MPH at times. When I downloaded my GARMIN data I can clearly see the tide changes where I was seeing different speeds.
Start of the race was interesting with tide against us and most of was drifting away from the position you wanted to keep. I end up starting close to dock side with OC1 paddlers. Friend of mine Paul Camarena took the starting of the race from the Blockade room and I saw myself starting really good. I wasn't paying attention when I started but soon or later I did find out that middle section of the course was much better and I start to loose the position. I wasn't panicking nor out of breathe but mentally it was hard to catch up. Definitely was not happy were I was but this is of racing that you just take it as is and chase your opponents.
Almost 2miles in the race I finally find someone I can draft off it and it was my buddy Tony. He didn't know I was behind him but I caught some break for 1/2mile or so. Again I saw to my far right towards the shore few drafting paddlers slowly gaining the gap. We were not far from getting the tide behind us to pick up speed but sometime you can only grind for the best.
When we had tide in our back I kept looking for the best section of the course and I was able minimize the distance with the group I was chasing. Sometimes chasing can be hard on your body and I never stop chasing till probably the last stretch 1/4miles away from the finish.
I look back this years Carolina Cup and I was little disappointed with the results. 8th place in the age class and 21st place overall. I'm still happy that I was still Top10 in the age class and probably shouldn't be complaining at all. Performance wise I felt good and at least my start was really good .
To tell the truth I really enjoyed the entire week hanging out with the crew and social paddle.
"Priceless" time at Carolina Cup……