Good Times and Hard Times
It wouldn't be an appropriate to start this blog without recognized these two wonderful human being. You know it, Ben Friberg and Kim Friberg who puts heart and soul for 10years here in Chattanooga, TN. 10th Anniversary of Chattajack brought 80 paddlers to receive the buckles this year. COVID19 has delayed our buckle class of 2017 for extra year but including me it was such a sweet moment to have your name call up by none other than Ben Friberg.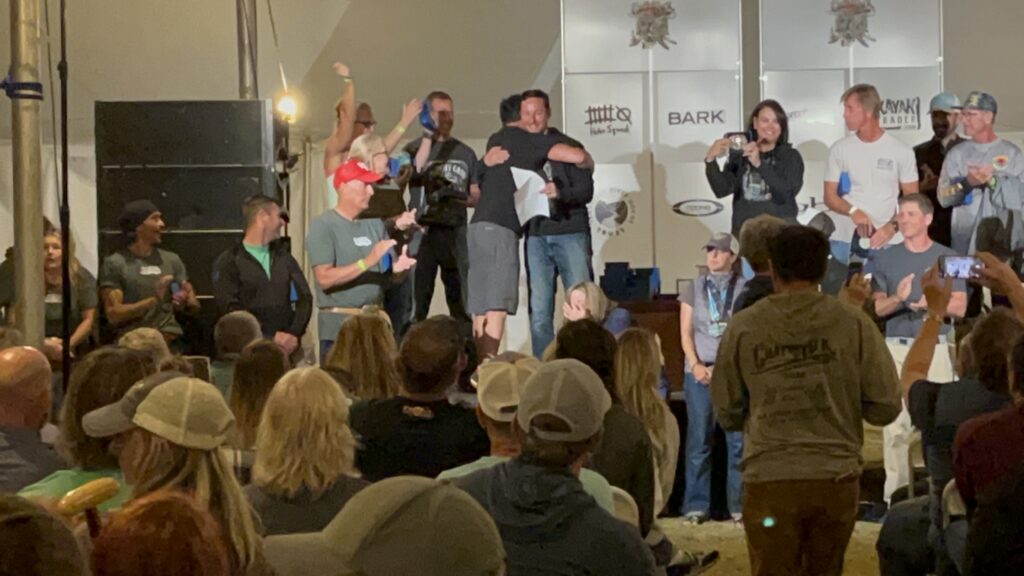 Half decade in the making
Chattjack was started in 2012 when I was not even paddling that time. It was July 2013 when I bought my first Boardworks RAVEN to enter the paddling world. In 2015 I tried two races and got hooked on competitive again. Big change was 2016 when I join the Paddle Monster and start getting coached by Larry Cain. Train hard and learned about paddling by going to the races every two weeks during the summer. I remember I trained like I was going to Chattajack in 2016 but not only I was not even egistered but didn't put myself on waiting list either. Instead I tried 22miles Ohio River race which was gust winds and 2-3 feet wave for very long time. I end up pull out at 17miles check point and exhausted back to the truck. I told Coach Larry the results and till this day I still remember coache's hard critics. Larry told me me "I quit the race regardless of the outcome". That has stuck in my head all these years but definitely made me a strong mind set person. I always say to myself what would Larry say.
2017 became the first year of Chattjack for me and spend lots of time on the water to prepare myself. What a brutal year it was. Cold , rain and head winds at 3miles bend. I fall in and I almost didn't think I would made it to the end but for those did we were left with frosty fingers.
I can't say that rest of the chattajack was easy. Each year presented by something different and unique on Tennessee River. If I had pick best year would have been 2021 despite the major nutrition fail and cramp at 20miles. I was blessed to have Patrick Brommel passing by and gave me his salt tablet. It was that deja vu moment I had to endure and stay strong to finish the race. Over the years I have learned to survive these pain and mostly keep my mental stage strong.
With all the craziness in 2021 saga I was ready to call it for a quit after 4years. Most of us during the pandemic 2020 has changes our courses mentally. Virtual CJ at home turf doing half jack sorta kept in place but definitely changed the rhythm for me.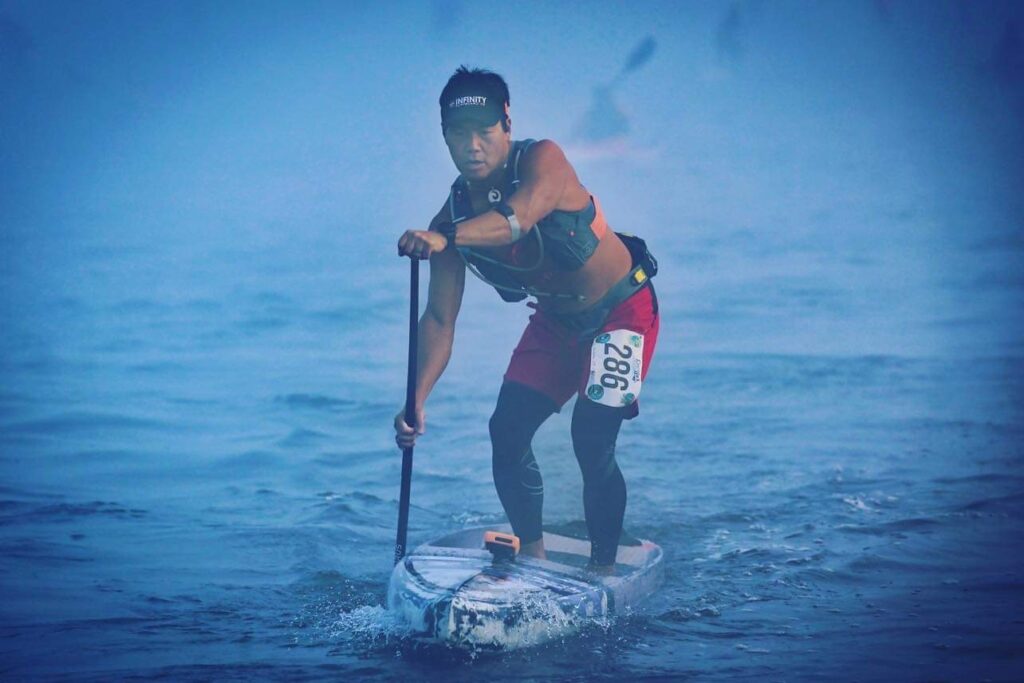 Final Countdown
In 2021, I have said it to a few people that I was done with Chattajack after major nutrition failures. I came to conclusion that I had good 4 years. Soon after the Chattajack my good buddy we call it each other "Twin from another mother" Jason Hjelseth from Chattanooga said "Let's dot it". At the moment I wasn't 100% committed but also volunteering the event allow early registration help my mindset. I knew I could let my spot go if I need it to when that time comes.
5th years with Paddle Monster training program allow the best way to cope the situation by continue the winter training and keep going forward. One of the big changes in 2022 was the new relationship I got involved, continuing the journey to recover from SI joint and left shoulder issues I have been dealing since end of 2019. Training load change a little but also allow me to step back for my body to recover. All in all this year I did pretty well keeping up the cardio and paddle techniques to improve as my hip rotation return near perfect.
When you are committed athlete you don't make excuses but take a full responsibility of all your actions. No one to blame but yourself to reach the goal you committed. I have kept it deep inside of me with the struggle of buckle year all year around. I don't know if was 100% ready for Chattajack this year but I definitely put quality work that I was able to bring to the Tennessee River.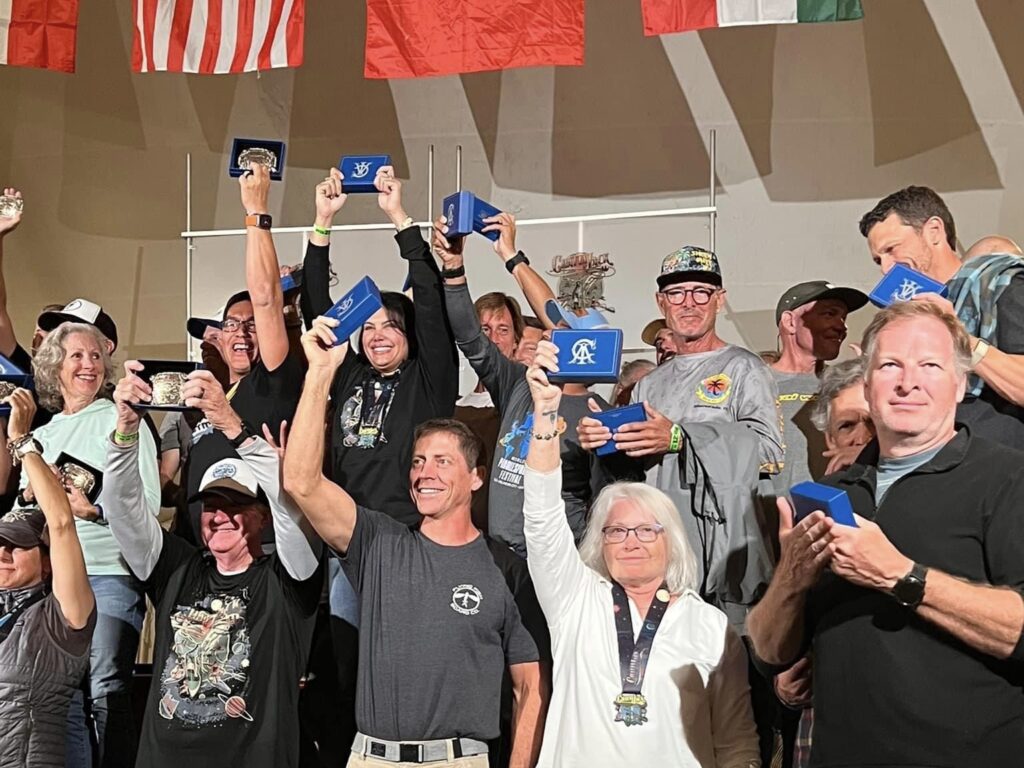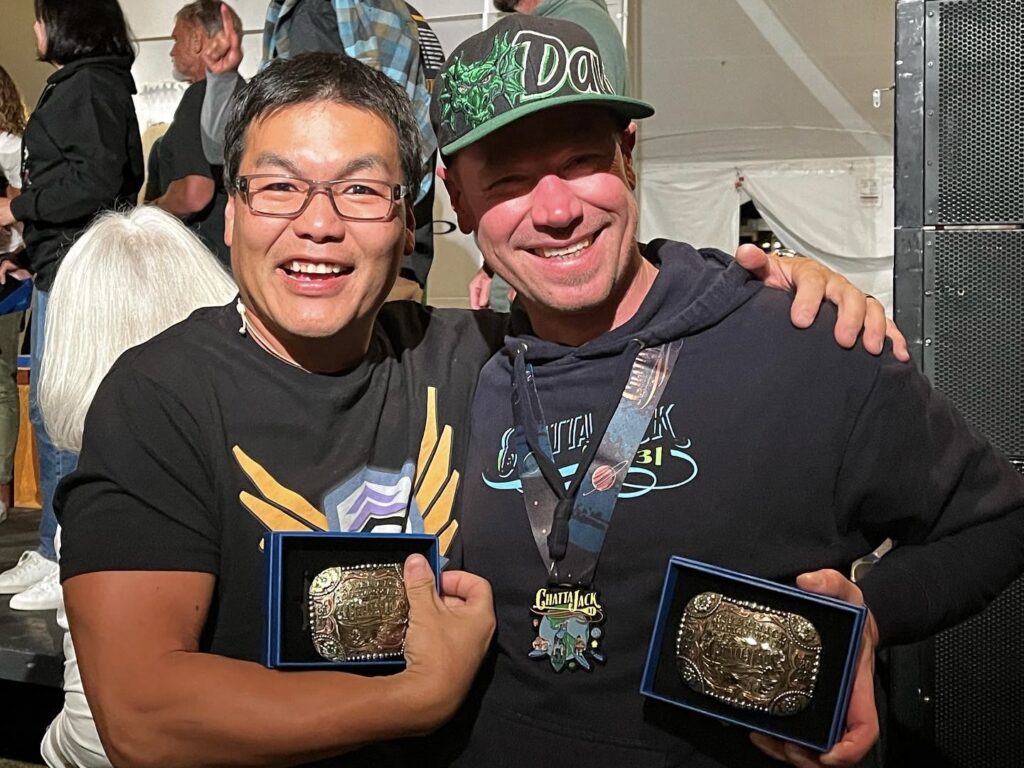 No turning back
My girlfriend Teresa wanted to see me racing so she had pleasure to wait for me at the Hales bar. Not only we all want hear mega horn Melia to call out your name coming into the Hales bar but I had to come back to her as well.
Every year on 6am, the a day of Chattajack I wake up to same boring breakfast. Two bowl of oatmeal, bananas and OJ. Carb loading morning without no coffee. If you guys ever seen my laminated Chattajack Play Card for nutrition it was on point for the each year. This year I had to fix the nutrition mixes issues but otherwise everything was good to go.
One thing different this year than any another year is Friday night carbo loading. Always went Tony's but always little stressful night so we did the thing. For the last Chattjack I finally stayed in Courtyard by basecamp and had my food dropped off at the hotel. Tony's pasta in the room was great idea and relax for the night .
Was I feeling exciting before headed to the Ross Landing? Teresa told me if I was dredging about the race. I definitely didn't feel for it but I knew it was "Go Time". If I said was excited I would be lying to you. Sometimes in your life you just have to suck it up and do it.
Leaving something to be remembered
Chattajack is famous for unknown weather condition till the morning of the race day. If any I left some gold standard in how you should wear on chattajack day. 41F , feels like 41F with no wind and warmer like a Florida summer. Two years in row top naked to start the race. Just remember that Tennessee River water temp is still warm this time of the year. While I saw bootie and wetsuit paddlers I just went out with minimalistic summer fashion.
How does one to go so minimalistic where rest of 600 + paddlers wearing more cloth than you. I don't know exactly but recent cyro therapy I started back in April of this year has lot to with it other than I had to take thyroids meds 2years ago.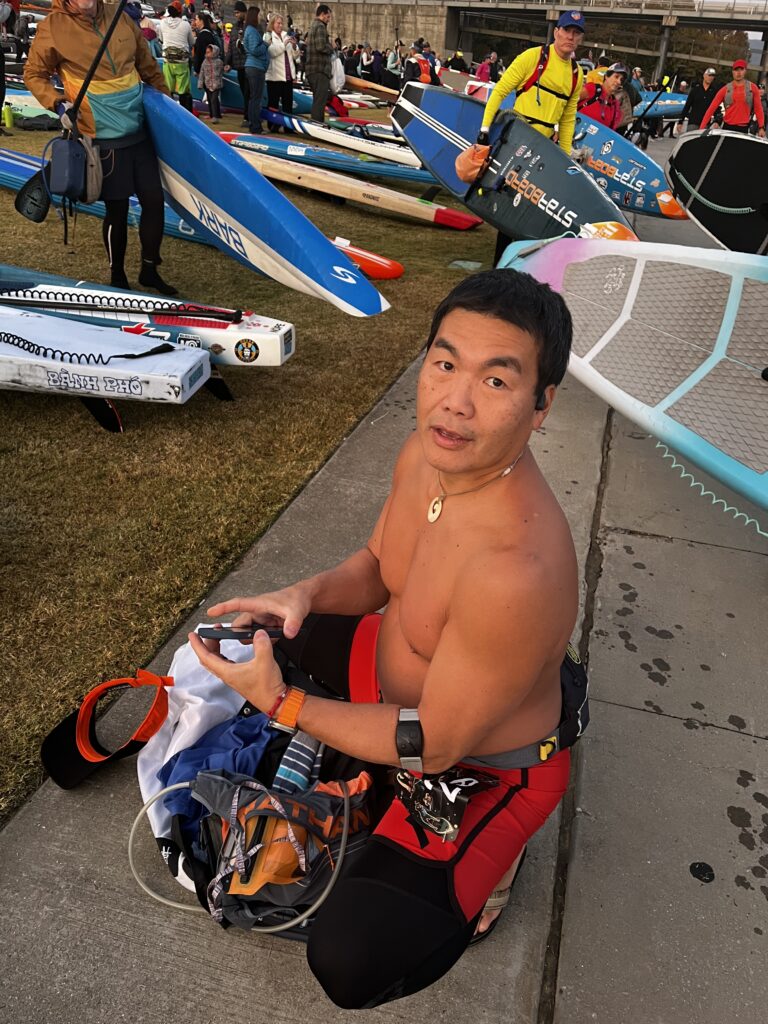 Looking back my last Chattajack
After the race meeting, national anthem and music blasting , it's a go time. Do or die time for 8:30am start. Sun slowly peaking out ,anxiously waiting for Ben's boat to move between the bridges. I was surrounded by prone paddlers in the middle of the Tennessee river. Heather Frogge was on my left as we started the race. I think we got pretty close and I though I almost hit with my paddle. I waited until she got her podium moment and as she was walking back I stop her to apologize. I remember she said something out loud as I was paddling next to her but I end up not hitting her and moved out from the prone traffic.
First 15-17miles I put some work but after awhile I felt I was done and just wanted to get back to Hales bar. I had descent draft to go with which hasn't had much of luck in all my Chattajack so that was plus. As I continue to paddle the river Megan Pfeiffer comes around who also getting her buckle this year. We chat for little awhile and we both had same mind set to finish the race. She was nice enough to take a picture for me.
Weather was beautiful while river flow was dead. You definitely has to do all the work and earn every miles. Rest of the miles I cruised and enjoy beautiful view for the last tiime. This year the weed was growing so much we had to go around to clear it. Probably the worse weed condition for Chattajack history while we had zero head wind.
As we come to the last bend to see the Hales bar and it was flat as pancake. Only wave we had was crazy fishing people going crazy making the wakes. Looking back 2019, strong head wind and 2-3' waves at last miles to the Hales Bar. Paddlers was falling left and right. I was lucky one to make the turn into the Hales Bar to finish safe.
5 years of Chattajack, condition was never the same and ever will be. For those finishing every year we become veterans of Tennessee River knowing what to expect.
I couldn't be any happier to come back to Hales Bar and hear the Melia calling out our names. We all know we came home. As my girlfriend calling out for my name kid next to her sad who is "June". Kids dad said to him he is "Legend in paddling world" I don't know who that person is but crazy to know that in our paddle community Machine, June the Machine is inspiring people all the time.
I had another moment while I was waiting to check in at base camp on Friday. I had two Florida SUP paddlers came up to me and said "You don't know me but I follow you and you are my inspiration". My girlfriend was surprised with these paddlers walking up to me. I very humble myself to know that I'm able to inspire many paddlers.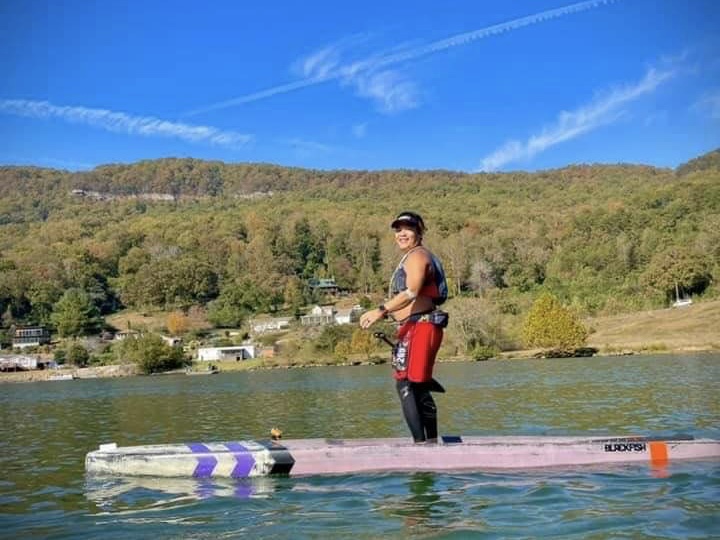 Farewell
I said to myself in 2017, I want that buckle. Well this year I was humble to be part of 80 paddlers to receiving his or hers buckle. If I had to choose my best year would be still 2021 without a doubt. It wasn't about the flow of the river or great weather that day. I spend lots of time on water in 2021 more miles in any years I have paddled. Now that all set it done everything is irrelevant anymore but I'm looking for to a new exciting thing in the future.
It's time for me to hand out my torch to someone who want pursue the dream of buckles. Friends are keep asking me if I will ever come back to Chattanooga. Answer is "Yes" but not me paddling 32miles.
It's not too late for anyone to try if you can commit and put your time in!. Looking forward to see your dreams to come true.